Paternity Rights and Responsibilities in Florida: A New Chapter for Unwed Fathers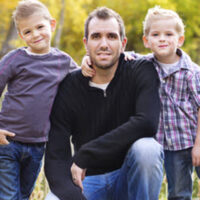 Florida has recently made significant strides in bridging the legal gaps between married and unmarried fathers. A bipartisan measure strongly supported by the Family Law Section has changed the landscape for unwed fathers and their children. This new legislation, HB 775, creates a path for unmarried fathers to establish paternity, child support, and visitation rights.
Our Boynton Beach and Palm Beach County family & divorce attorneys are here to assist both fathers and mothers in understanding these recent changes in the laws that affect paternity rights in Florida.
A Landmark Moment: HB 775 and What It Means
Governor Ron DeSantis made a landmark decision by signing HB 775 on June 9, 2023, with the law, which took effect on July 1st, 2023. This bill marks a pivotal moment for unmarried fathers, providing them with automatic parental rights previously reserved only for mothers of newborn children.
Representative Christopher Benjamin, D-Miami Gardens, was the key proponent of this bill, while Senator Clay Yarborough, R-Jacksonville, introduced the accompanying version. Their combined efforts resulted in the creation of a procedure that enables unmarried fathers, upon the mother's consent, to establish paternity, child support, and visitation rights formally.
Senator Yarborough aptly summed up the bill's essence during his speech to the Senate Children, Families & Elder Affairs Committee, stating, "It places unmarried fathers who have shown an interest…in the same position as a married father."
Jacksonville Magistrate Kristi Beth Luna, expressing the support of the Family Law Section, remarked, "This bill is good legislation; it is positive for families in Florida, for children in Florida, and for fathers in this state." A white paper from the Family Law Section also highlighted the existing gaps "concerning parental rights and responsibilities of unwed parents after the acknowledgment or establishment of paternity." HB 775 addresses these issues, clarifying existing laws and fostering better parenting.
Establishing Paternity in Florida: How It Works
Paternity can be established in several ways in Florida:
Marriage: When a couple is married at the time of birth, the husband is automatically presumed to be the child's legal father.
Voluntary Acknowledgment: Both parents can sign a legal document acknowledging the father's paternity. This document becomes final 60 days after signing.
Administrative Order: Based on genetic testing, an administrative order can be issued to establish paternity.
Court Order: Either parent can go to court to have paternity determined, often involving genetic testing.
The Implications for Unmarried Fathers and Mothers
With the new legislation, the process for unmarried fathers will become more streamlined and less daunting. This law significantly emphasizes equality, recognizing that both parents play vital roles in a child's life.
For Fathers:
– Rights and Responsibilities: Unwed fathers will now automatically receive specific rights previously given only to the mother, thus fostering a more balanced parenting environment.
– Child Support and Visitation: The law allows the establishment of child support and visitation rights, ensuring that the father can contribute financially and be actively involved in the child's upbringing.
For Mothers:
– Shared Responsibility: This legislation promotes shared responsibility between both parents, reducing the sole burden on the mother.
– Informed Consent: The mother's consent is vital in the process, reflecting her significant role in the decision-making process.
Looking to the Future; Embracing Change for Florida's Families
The passing of HB 775 signifies more than an amendment; it represents a societal shift towards greater inclusivity and compassion within family laws. By granting fathers the rights they deserve, Florida is taking a stride in acknowledging the significance of fathers in their children's lives regardless of their marital status.
At the Law Office of Taryn G. Sinatra, P.A., we understand the importance of comprehending these changes for those directly impacted. If you're a parent residing in Palm Beach or Boynton Beach and require guidance regarding paternity rights and responsibilities, our family law attorneys in Boynton Beach are ready to support you.
Our objective is to foster relationships. Provide solutions that align with your unique family circumstances. Together let's navigate these waters as we build a future that respects and safeguards your rights.
Sources:
flsenate.gov/Session/Bill/2023/1146
floridabar.org/the-florida-bar-news/governor-signs-bill-to-help-unmarried-fathers-fulfill-their-parental-responsibilities