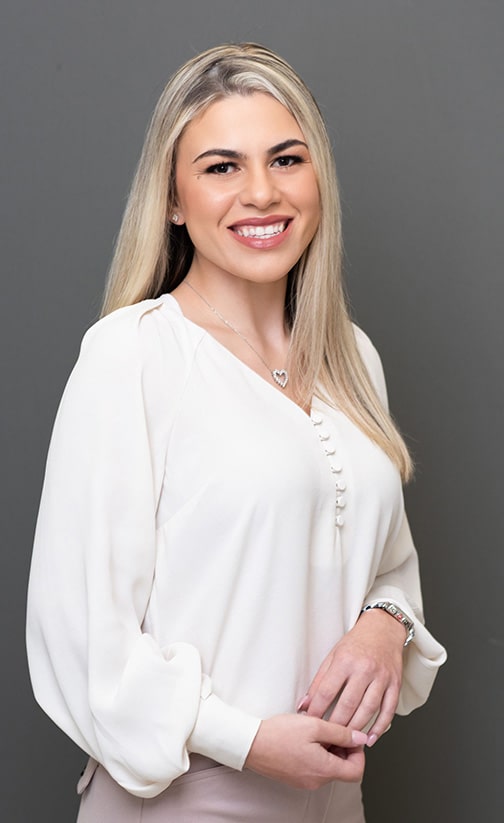 Giuliana Santini
Associate Attorney
Giuliana Santini, Esq. is a highly skilled and dedicated attorney specializing in marital and family law. After earning her Bachelor of Arts in Criminal Justice with a minor in Psychology from Florida Atlantic University, she went on to receive her Juris Doctorate from Nova Southeastern University Shepard Broad College of Law in 2021. With a concentration in Intellectual Property Law, Ms. Santini is a respected authority in this complex area of the law.
During her time at law school, Ms. Santini worked diligently as a law clerk for the Law Office of Taryn G. Sinatra, P.A., where she gained valuable experience assisting with marital and family cases. Her passion for helping clients navigate the nuances of family law inspired her to join the firm as an associate attorney upon passing the bar. Since then, she has dedicated herself to providing compassionate, effective legal representation to clients throughout Florida.
Ms. Santini is a member of various professional organizations, including the Family Law Section of the Florida Bar, the Young Lawyers Division, the South Palm Beach County Florida Association for Women Lawyers, the Young Lawyers Section of the Palm Beach County Bar Association, the Palm Beach County Bar Association, and the South Palm Beach County Bar Association.
In addition to her impressive legal expertise, it is worth noting that Ms. Santini is fluent in Italian, which allows her to effectively communicate and assist Italian-speaking clients with their family law matters. Her drive and passion for her work make her an indispensable asset to her clients and the community at large.