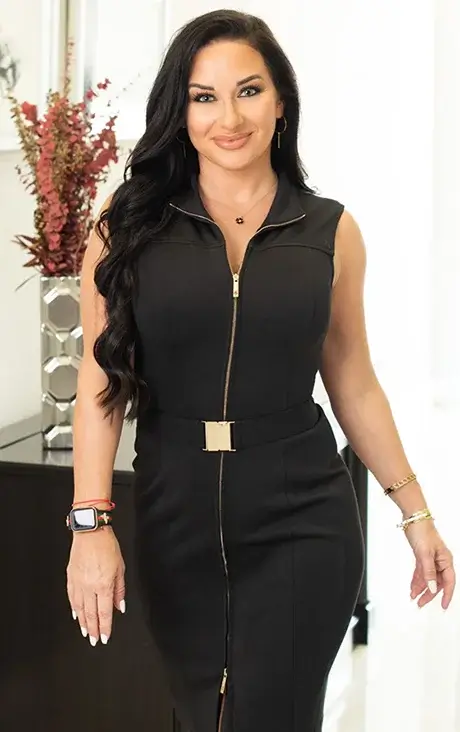 Boynton Beach Family & Divorce Attorney
When it comes to what matters most in your life, family relationships – your relationships with your spouse, your children, your parents, and others – most likely top the list. These matters can be complex; they can be emotional; and they can be a major source of disagreement as to how best to handle a particular issue or situation. Legal advice and representation from a top-quality lawyer who listens to you, understands you, and knows how to get the results you need can help you deal with those matters and help you reach your goals expertly and efficiently, with your rights protected, your dignity intact, and your relationships strengthened with those whom you love and care about the most. Your best moments are ahead, and you can count on the Law Office of Taryn G. Sinatra, P.A., to get you there.
The Law Office of Taryn G. Sinatra, P.A., is a Boynton Beach family law firm that concentrates exclusively in the areas of marital and family law. We deal regularly with all matters related to divorce, paternity, domestic violence, prenuptial and postnuptial agreements, the rights of parents, stepparents, grandparents, and more. Call our Boynton Beach family & divorce attorneys for assistance in any family law matter in Palm Beach or Broward County. We'll be glad to help.
Passionate Experts in Florida Family Law
Here you will find service and support from a Florida Bar Board-Certified Specialist in Family Law. This is a distinction you can count on for knowledge and competence in family law at the highest level.
Demonstrated knowledge, training, and experience to handle your needs
A legal team that genuinely cares about your future happiness and wellbeing
Practical advice, compassionate counseling, and zealous advocacy
Solid reputation and involvement in the legal community
Expertise in a wide range of Florida marital and family law concerns
A Specialist in Florida Divorce Matters
The Law Office of Taryn G. Sinatra, P.A., is ready to advise you and assist you with all aspects of your Florida divorce, including resolving contested issues regarding parenting and timesharing, marital property division, alimony and child support, as well as post-divorce actions for modifications or enforcement of court orders. We work to craft marital settlement agreements in an amicable setting whenever possible, and we provide strong and effective advocacy in courtroom litigation when needed. From uncontested divorces and simplified dissolution to the most complex high-net-worth matters or high-conflict custody disputes, we have the skill and experience coupled with the compassion and dedication to meet your needs.
The Experience You Need From a Lawyer You Can Relate to
The legal system can be daunting and uncertain no matter where you are coming from. Marital and family law matters in particular can be not only legally complex but also highly delicate to deal with. We understand the stress and emotional strain you are under because we've been there ourselves. Now we are here for you with guidance and support to make sure you have the best information and can make the best decisions based on the facts, the law, and the best interests of you and your children now and into the future.
Resolution Wherever Possible, Litigation Whenever Necessary
In our experience of more than a decade of family law practice, we have seen that when parties are able to work together to resolve their differences, the resolution is more satisfying and workable for everyone involved. We aren't looking for winners and losers in our family law practice; instead, we want the best outcome for peace, closure and comfort for the whole family. We'll represent your best interests and work to resolve conflict as much as possible, but we are always ready to litigate in court as necessary to protect your rights and help you achieve your goals.
Florida Family Law & Divorce FAQs
Q. How long will my divorce or family law matter take?
A. Every matter is different, just as each family is unique, and therefore there is no way to predict how long a particular matter will take.  That said, the Florida Family Law Rules of Procedure set out certain requirements and time constraints that can often dictate how a case is handled.  For example, a party has 20 days to respond to a Petition for Dissolution of Marriage once that party has been served.  More importantly though, a case can move faster or slower depending on the parties themselves, as well as their attorneys and how the case is handled.  More contested cases tend to take a longer time to resolve, while cases with fewer issues, or less litigation, can be resolved much more quickly.
Q. Will I have to go to court to get a divorce?
A. If your divorce is contested, meaning there is disagreement over issues such as parenting and timesharing, the division of marital property, alimony or child support, a trial will need to be held if the parties can't settle the matters themselves. This doesn't mean you'll have to testify in court or be called upon to speak in any way; your attorney does all the talking for you. Still, it can be important for you to attend the trial so you can know what's going on and communicate with your lawyer as needed.
If the divorce is uncontested, there will not be a trial, but you will still need to make an appearance before the judge to present your marital settlement agreement along with the Final Decree you want the judge to sign and any other required paperwork. The judge will review these documents and might ask you questions about the information you provided to ensure that the information is accurate and complete.
Q. How much will my divorce cost?
A. Certain divorce fees are fixed and can easily be predicted in any case, such as court filing fees, the cost of document reproduction, etc. However, other costs such as your attorney's fee or fees for expert witnesses or other professionals, depend on the number and complexity of issues in your particular case. Other matters such as whether the divorce is contested or uncontested, and whether your case settles or goes to trial, will be major factors in determining the cost of your divorce.
At the Law Office of Taryn G. Sinatra, P.A., we pride ourselves on affordability while still delivering top-quality legal services. We also offer unbundled services and limited representation where you only pay for what you need and are only charged one low flat rate. We can discuss costs with you at our initial consultation. After we have met with you and understand the issues in your case, we'll be able to provide you with a description of the most affordable fee structure for you along with an estimate or range of what your divorce might cost.
Q. Can I still use credit cards and joint bank accounts during the divorce?
A. When a divorce petition is filed, you and your spouse become subject to a temporary Administrative Order that says you can continue to access funds for reasonable and necessary purposes, including preserving marital assets and paying marital debts. Making major new purchases or sales or other significant changes would likely be a violation of court orders. So no buying a sports car or putting the home on the market in the middle of the divorce, and no closing bank accounts or canceling credit cards. If you become aware of your spouse doing things like this, share your concerns with your lawyer.
If you need financial support during the divorce to pay your attorney or establish a separate residence while the divorce is still pending, you can ask the court to order temporary alimony. Talk to your lawyer if you need temporary alimony or are being asked to pay to make sure you are being treated fairly and have the support you need.
Q. Is there legal separation in Florida?
A. Legal separation is not recognized in Florida. While couples may choose to separate and may even have a separation agreement, which can be enforceable, a party cannot file a legal action for separation.
Q. What is a parenting plan?
A. A parenting plan is a legal document in the form of an agreement between parents to address children's issues. A parenting plan is required to be filed with the court in cases of dissolution of marriage when minor children are involved.
Q. Can I get alimony if I'm married for a short period of time?
A. Yes. Alimony is based on one party's need for alimony and the other party's ability to pay. The Florida alimony statute provides guidelines to classify marriages according to their duration as short, moderate, or long-term. Various forms of alimony exist, and some may be more appropriate than others depending on the length of the marriage. But for alimony to be considered, there must first be a showing of need and ability.
Q. What is a QDRO?
A. QDRO stands for Qualified Domestic Relations Order. If you or your spouse has a pension plan or retirement account like a 401(k), profit-sharing plan or employee stock ownership plan, chances are that at least a portion of that plan constitutes marital property subject to equitable distribution. If the plan is governed by a federal law called ERISA, then the plan administrator will have to see a QDRO before the administrator can lawfully distribute payments to someone besides the employee. We can help you determine if a QDRO will be required in your divorce and ensure that a QDRO is properly drafted when necessary.
Q. Does a father have rights if the parents weren't married when the child was born, but the father is listed on the child's birth certificate?
A. It is a common misconception that a father to a child born out of wedlock has legal rights to the child. However, under Florida law, when a child is born outside of marriage and there has been no legal establishment of paternity and paternal rights by the court, the mother is seen as the only natural legal guardian of the child. This is true even if the father is named on the child's birth certificate. Therefore, in order for a father to have legal parental rights, including a share in parental decision-making and timesharing with the child, there must be a court order giving the father such rights. We can consult with you further on the different options for establishing or challenging paternity under Florida law.
Q. Am I allowed to move and take the kids if I am their primary caretaker?
A. If your planned move is 50 miles away or more from your current residence and intended to last 60 consecutive days or longer, you cannot move without first getting court approval. Relocating with the kids without a court order could be considered a form of kidnapping with serious consequences. The Law Office of Taryn G. Sinatra, P.A., can help you work out an agreement with your co-parent, including drafting an updated parenting plan and timesharing schedule that can be submitted to the court. If your child's other parent opposes the move, we can help with you filing a petition or answer and other legal documents, preparing for and attending a hearing, and providing strong and effective representation in court.
Quality Legal Representation You Deserve, at a Price You Can Afford
At the Law Office of Taryn G. Sinatra, P.A., you can expect to receive honest advice and compassionate assistance dedicated to meeting your needs. We are upfront with you so you'll have realistic expectations about your matter, which we'll pursue as a strong and dedicated advocate on your behalf, but always with the highest degrees of professionalism and integrity.
Our law firm is also sensitive to the financial needs and concerns of clients facing divorce, custody issues, or other difficult family law matters, and so we strive to deliver high-quality services in an affordable manner. We offer a variety of payment options, including providing unbundled services or limited scope representation where we provided precision services in a divorce or other family law matter rather than full-blown representation, only helping you where you need it most and keeping your costs as low as possible. You shouldn't have to sacrifice the best representation you can get when such important matters are at stake. If affordability is a concern, we are happy to discuss your options.
Call the Law Office of Taryn G. Sinatra, P.A., Today
For help with divorce, paternity, prenuptial agreements, domestic violence, or other family law matters in Palm Beach or Broward County, call the Law Office of Taryn G. Sinatra, P.A., to discuss your needs with a caring and dedicated Boynton Beach family & divorce attorney.